getting your puppy started off on the right paw!
26 February 2016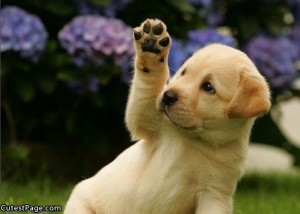 Bringing a new puppy into a household will be a scary experience for your pup and it will result in a period of adjustment for them. Your job as the owner is to make them feel at home at their new place of residence, they will be leaving their mother and siblings so they will most likely feel uncomfortable and miss them. Your families efforts will pay off when you witness your puppy grow into a sociable, confident and affectionate dog.
Checklist of what to buy before your puppy comes:
Food and water bowls
Food
Crate with crate pad
Chew appropriate toys – puppy kongs, chew bones
Puppy collar and leash with identification tag – pets name, your number and your vet's number
Bite sized treats for training and rewards
A baby gate or play pen to confine where your pup goes
Disinfectant sprays, carpet cleaner ( things that mask the smell so your puppy doesn't continue to eliminate in the same spot inside)
Poop bags
Brush, nail clippers
For more information about bringing a puppy into your home, click here.