Road Tripping with Your Feline Friend
12 April 2016
Taking your kitty for a ride.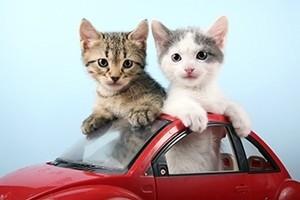 There is a big focus on how important planning is to make your cat as stress free as possible, this is no different for travelling with your cat.
The first step is to teach your cat to enjoy their cat carrier, convincing them it is a fun place to chill out. It is best to start this from when they are a kitten, but this can also be taught when they are an adult. For more information on how to get your cat ready for their road trip, click here.
For other frequently asked questions about travelling with your cat, click here.
Additionally you can also consider the option of leaving your kitty with us at Pet Universe and we can look after them for you. For more information about our Cat Club, click here.