Dog Grooming Services in Adelaide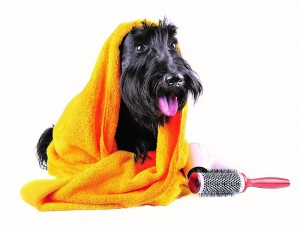 Professional dog grooming and gentle handling for your pet
"Gentle handling, professional grooming, tasty treats & free health checks will make your pet want to come back again"
Give your dog the chance to be pampered and preened, groomed and cleaned with a day at the spa. The Dog Spa at Pet Universe is a professional dog grooming service in northern Adelaide. Your dog can be dropped off at our pet salon either before their morning or afternoon spa treatment, and can be collected any time after their spa session until closing time. The Dog Spa grooming salon is open most days from Tuesday to Saturday and is available both morning & afternoons.
During their visit they will receive a professional groom*, power-jet hydrobath, blow dry**, nail trim & essential oils coat deodoriser .Sedation is not used unless specified by the owner (or on the odd occasion when recommended by us).
All pets are given free nurse health checks & any cause for concern will be noted on The Spa Health Check & discussed with you on collection.
Discounts may apply for those pampered pooches who have regular visits, so please enquire at reception for our frequent-flyer rates.
Our Dog Grooming Suite, The Dog Spa offers four services:
Clip & Wash: your pooches hair is trimmed shorter, a thorough brush-out is performed, followed by a wash & blow dry, nail trim & essential oils coat deodorizer.
Deluxe Wash: for pampered pooches the coat is thoroughly brushed out, followed by a wash & blow dry, nail trim & essential oils coat deodorizer.
Quick Wash: for dogs on the run a thorough coat brush out, hydrobath, then a towel dry to remove excess moisture, followed by a nail trim & essential oils coat deodorizer.
Derma Spa: for dogs with itchy or infected skin this medicated, therapeutic treatment will help soothe their skin. All dogs must have a veterinary consult prior to starting these treatments.
Please call to obtain your quote which is dependent on breed, size & coat condition.
*, ** not included in the Quick Wash
For further details about dog grooming services in northern Adelaide, feel free to contact us. We also offer Cat Clips, for pet owners needing professional cat grooming.