Greyhound Adoption Programme
Pet Universe is a proud supporter of the Greyhound Adoption Program in South Australia.
In February 2009 Dr. Lee and Claire Lee, owners of Pet Universe, adopted "Scout"- a four year old racer that had just retired.
In November 2009, "Scout" along with Claire and the Lee Family children took part in the Norwood Christmas Pageant along with many other GAP dogs and their families. From first-hand experience, GAP greyhounds make wonderful pets and these gentle-natured creatures will always give back so much more than you ever expect in terms of companionship and love.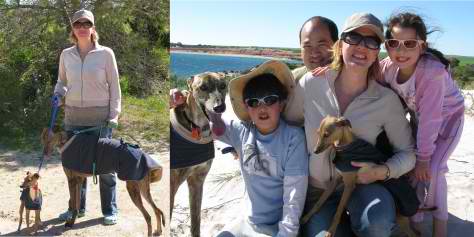 For more information on adopting a greyhound, contact GAP on www.gapsa.org.au
Special Offer for GAP Greyhounds
Pet Universe will extend a 10% discount on all vetcare services to GAP dogs. This offer does not include grooming services or retail and merchandising items.