Pet Universe Clubcat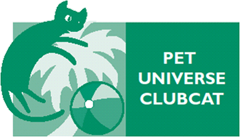 Pet Universe Clubcat is the Resort Style Holiday for all felines in the know! It incorporates luxurious condos and
penthouses with a beautiful palm garden and cat play gym. This combined with complimentary super premium food and expert care means, you should have the ultimate relaxing experience while mum and dad are away.
Condos and Penthouses
Our air conditioned suite houses 22 luxury condos. Each condo has three levels including a hammock tier. All condos have a roam-alone hatch which can be opened up for access to the adjacent condo – so we can create a "penthouse" (double condos). This is ideal if you want extra space. This is a perfect for a family of three social cats across two adjacent condos. Sheridan Spa Towels lining each cage add an extra touch of comfort! Our SuperCat condos are purpose-built and meet the standards set out by the Victorian Cat Boarding Guidelines. All condos are serviced twice a day. We recommend one cat per condo for maximum comfort, with other family members joining you outside for play sessions.
Palm Garden and Cat Play Gym
We try where possible, to schedule play sessions for all you felines who would like to frolic outside in our secure outdoor palm garden and cat gym. Climbing frames, toys and sunning platforms provide a fun setting in which you can chill out.
Check-In Requirements
You can check-in anytime from 1.00pm onwards Monday – Friday, between 8.30a.m. – 12.30 p.m. on Saturdays and 10.00a.m. – 11.30 a.m. on Sundays. Please note, we are always closed for admissions on public holidays. On your arrival at Pet Universe Clubcat, we will weigh and check in your cat carrier and label it with a luggage tag. Please feel free to bring in a favourite toy or comforter. Our Pet Universe Clubcat Check– In Form will note your feeding specifications, any relevant medical history and vaccination status. Additionally, we will label and hold your current medications for fleas and intestinal worms. If you wish to pamper yourself at Cat Clips for a haircut or brush-out, we will take your brief for this, too. Please tell mum or dad to allow a few minutes for your check-in.
Vaccination Immunity Is A Must
You must supply a current vaccination certificate on arrival. Your vaccination certificate must state that vaccination was done within the last 12 months and is currently up to date. Those felines who have missed two booster shots must start a primary course from scratch. This means, an initial shot followed by the second shot two weeks later. Once the second injection has been given, they are eligible to stay at Pet Universe Clubcat. Please let mum or dad know that we will refuse entry if you fail to meet this requirement.
Fleas and Intestinal Worms
100% reliable flea prevention is mandatory. Acceptable products are Frontline, Advantage, Revolution and Advocate. Also, you must have had an intestinal worming treatment within 3 months prior to admission. Please bring along your current flea and intestinal worming medications to confirm you meet our requirements and ensure all guests have a comfortable stay. All Clubbers not on these products will be charged for an application of the relevant medication(s). If we find fleas, then unfortunately you will have to forgo any play sessions in the palm garden!
Insulin Dependent Diabetics
A special boarding rate applies if you have this condition. Please ask our nurses about this.
If You Become Unwell During Your Stay
In this unfortunate event, we will need contact details of a human that can authorize any treatment you may need. Our professional veterinary care fees will apply. Your veterinarian will also be contacted for your files.
Check-Out Before 11 a.m.
Clubbers must check-out before 11 a.m. Check-outs after this time will be charged another night.
P.S. We are always closed on Public Holidays, so no Clubbers can be collected on these days