Stem Cell Therapy
OUR PATIENT EDUCATION BOOKLET SERIES*
Value Sheet – Luxating Patella pdf
Pet Universe – South Australia's 1st Medivet Regional Stem Cell Processing and Therapy Centre
On Friday, 6 May 2011, Pet Universe became South Australia's 1st Regional Stem Cell Processing and Therapy Centre for Medivet, makers of the high-yield Medivet Adipose Stem Cell Kits.
Dr.Lee and Head Nurse, Chelsea Forrest-Smith and Deputy Head Nurse, Hayley Gilkes performed stem cell harvesting, processing and therapy on our two canine patients 'Rambo" and 'C.J".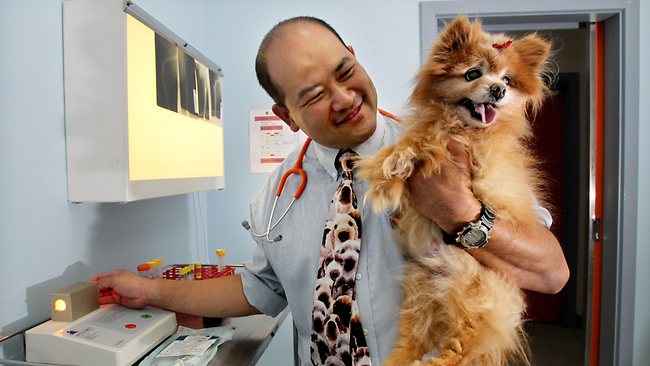 Above: Dr. Chris Lee with his adorable patient, a 15-year-old Pomeranian named after action hero, Rambo. Rambo will be one of the first dogs to undergo revolutionary stem cell treatment in South Australia.
Stem Cell Therapy is suitable for the treatment of aging and degenerative diseases in large and small animals such as arthritic dogs or cats whose quality of life has decreased due to pain and reduced mobility.
Dr. Lee says, "For the very first time, we are now able to perform regenerative stem cell procedures entirely within our own hospital as a one-day procedure using the animal's own fat-stored adult stem cells, in real time and at a fraction of the cost of previous technologies. All the team are very proud to be the first Regional Processing and Therapy Centre for the Medivet Stem Cell System in South Australia".
Stem cells harvested from the animal's own fatty tissue are filtered and activated using a patented LED Technology. These activated cells are then administered into the patient to accelerate the healing of damaged ligaments, joints and cartilage arising from an injury, disease or degeneration.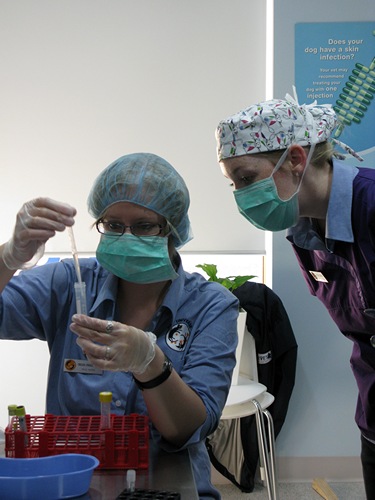 Above: Head Nurse, Chelsea Forrest-Smith and Deputy Head Nurse, Hayley Gilkes, processing stem cells.
Dr. Lee says, "This is cutting-edge technology that paves the way for the future of veterinary medicine and we are truly delighted to now be able to offer this to your cherished pets".
For further information on Stem Cell Therapy, please contact Dr. Lee on 8266 4666 or email your enquiry.
Stem Cell Therapy Success Stories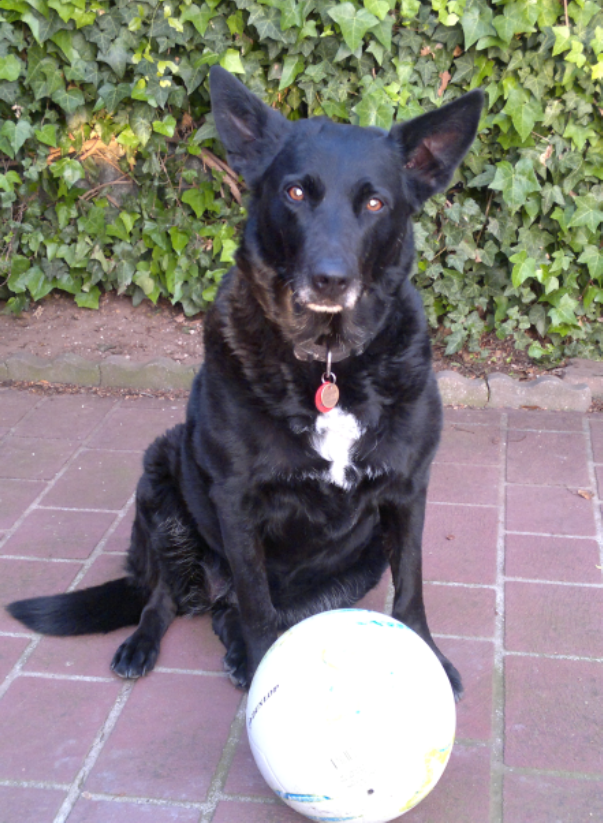 Shadow has always been an active dog & enjoys going for walks, running, swimming & playing under the hose. Above all else, Shadow enjoys playing soccer & became so good at it that she taught herself to kick the soccer ball up stairs.

At the age of 7 years Shadow started to limp slightly, struggled to get up from her bed &, eventually, she could not even walk up the stairs. It was awful to see the sad look in her eyes as she waited at the bottom of the stairs for someone to help her as she was obviously in pain. After a few days with no improvement we took her to Pet Universe where Shadow had x-rays taken. Chris Lee had put her on pain medication but he also suggested Stem Cell Therapy as Shadow had hip dysplasia. Shadow's treatment happened in June in just one day.

We started to see improvements after a couple of weeks & by her 60 day check up she had full movement in the hip area without signs of pain. The anti-inflammatory medication is no longer required. The result achieved from Stem Cell Therapy has exceeded all of our expectations & we will certainly recommend it to anyone in a similar situation. We would like to thank Chris Lee & the staff at Pet Universe for offering Stem Cell Therapy as an option for pets at Pet Universe & also for the exceptional care they have given to Shadow & our other dogs over the years.
- Steve and Kristina Smith – Ingle Farm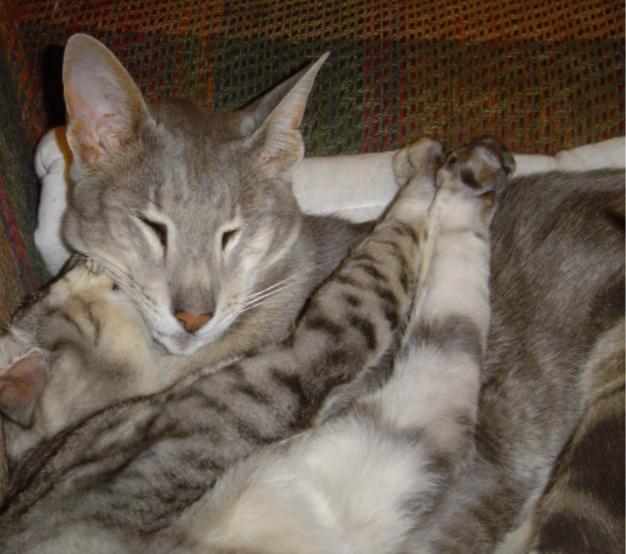 My 11 year old Oriental, Mystic, had been unusually grumpy with my younger cat when she wanted to play. Then, he could not lay down comfortably – he would get part of the way down & would then collapse. And, he didn't seem to be able to clean the fur on his back. X-rays identified the cause – arthritis in his front and back legs. Dr Lee suggested stem cell therapy, so I read some of the research on how effective stem cell therapy can be for arthritis, & I decided to have the procedure done on Mystic. Every patient will be different, but Mystic's improvement was excellent. He has much more control, much less pain, & his fur is shiny and glossy. But, the best thing is that he can play again, and he and Isabella are back to being best friends!
- Sarah Laurence - Blair Athol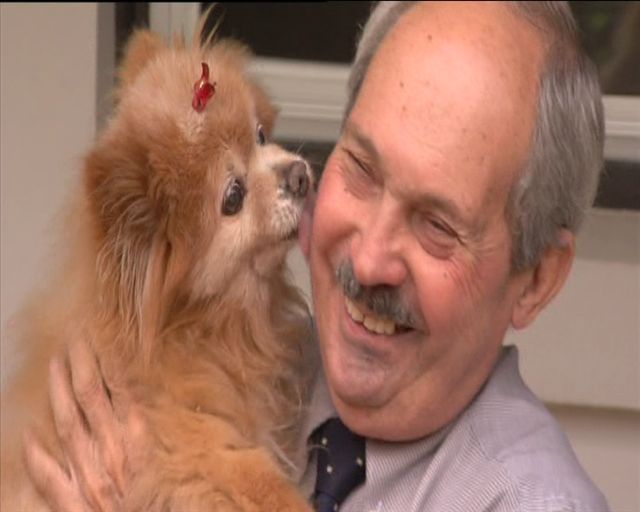 Rambo ruptured both cruciate ligaments at the same time so he could only get around by using his front legs and dragging the back of his body. At his 12-day post-operative follow up Rambo is now climbing the stairs and walking around the garden
- Brian Briggs - Adelaide