Kitten Kindy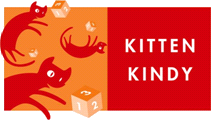 So start your kitten off on the right paw. We will teach you how to teach your best friend:
Basic good manners
How to sit, come, touch, shake
How to enjoy visits to the vet
Housetraining
Tips on diet, bathing
Tips on grooming and dentistry
The Philosophy Behind Kitten Kindy
Kitten Kindy is all about training you and your family how to train your kitty to become a Good Feline Citizen. On graduation, you should feel confident in all aspects of your new baby's care and should develop a closer bond with them. But most importantly, you will understand how to talk feline! The basics of cat psychology is the first topic at kindy and provides the foundation of the whole course. All training is rewards-based i.e. motivational.
Designed By The Behavioural Expert
Kitten Kindy at Pet Universe is based on the teachings Dr Kirsty Seksel's – the foremost animal behavioural expert in Australia. Many of our staff members have completed her Kitten Kindy as well as Puppy Socialisation and Training Course.
Course Structure
Our course is run over 2 weeks on a nominated weekday evening at Broadview with a maximum of 4 kittens. Other family members are welcome. Please discuss this with us in advance to ensure there is enough space! All kittens receive a complimentary Kitten Pack and the last lesson concludes with a graduation ceremony with each feline receiving their own certificate. Each class is run by a Senior Nurse.
Is My Kitten Eligible?
Kittens must be between 8 – 16 weeks of age, the 'socialisation period' of their development. After 16 weeks of age, they enter another distinct phase of their development which is not suitable for this class. If in doubt about your cat's eligibility, please call us. Different breeds and individual kittens develop at slightly different rates. All students must have started their vaccination course for herpes virus, calici virus, parvovirus (and flu and enteritis) and must be on flea and heartworm prevention.
Do I Need To Bring Anything?
All you need for Kitten Kindy is to turn up with your kitten, its current vaccination card and your family. But a word of warning – most kittens develop selective deafness on a full tummy. So, we ask you to refrain from giving them dinner until after the class. Also, please bring them in their carrier and also bring a matt or blanket for kitten to settle on.
How To Book
Please call us on 8266 4666 at Broadview or 8369 3111 at Northgate.